Crafting Challenges allow collectors to place Moments in the Challenge Builder to be permanently removed or 'burned' from the NFL ALL DAY platform to earn special rewards.
Moments that were specially minted for the completion of a Crafting Challenge will have a Reward Badge indicator as shown below. You can check out the NFL ALL DAY Marketplace here to see all Moments minted for Crafting Challenge Rewards.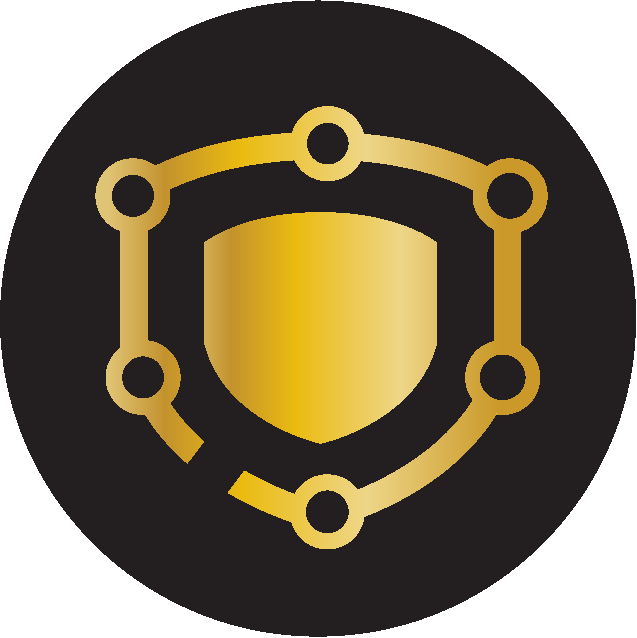 On the Challenges page, you will also be able to see Crafting Challenges along with all other Challenges. You can search for Crafting Challenges by using the filter on the top right-hand side of the page or by noting the Crafting Challenge indicator above the Challenge name.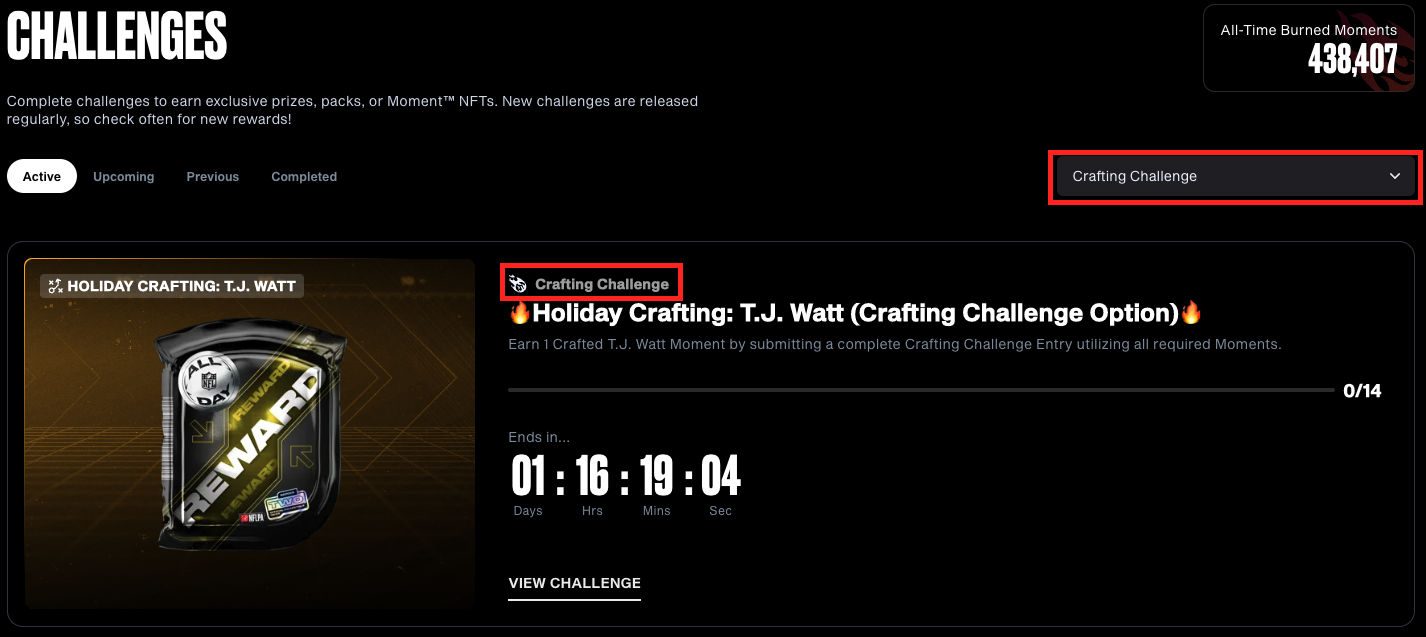 Participating in a Crafting Challenge is similar to any other Challenge where you will use the Challenge builder to complete your entry. The only difference is that Burn Slots will have the Moments in those slots removed from the platform entirely as they will be burned. For more on Challenges and using the Challenge builder, check out our article here.
When you enter the builder, you will be asked to select eligible Moments for the slots to be burned. Ensure that you are carefully checking the Moments that you select because once you submit your entry, these Moments will be burned and you will not be able to recover them.
The bar at the bottom will let you know how many more Moments you need to add to the builder to submit your entry. If you don't have all Moments for your submission, you can save your Challenge Entry in between so you can come back to it later.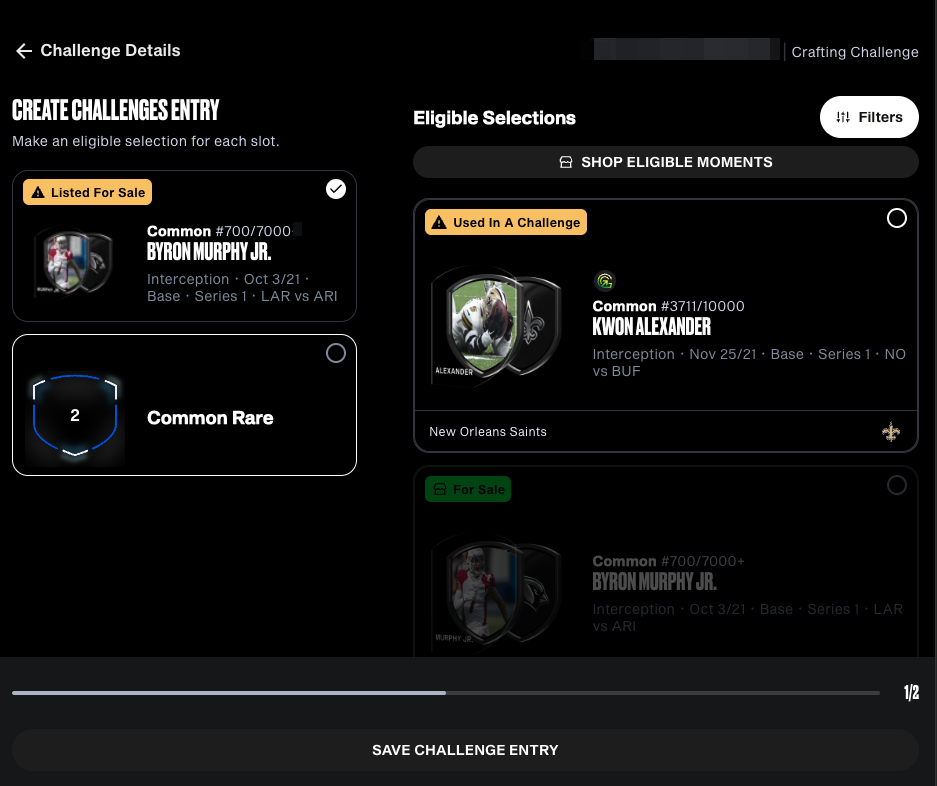 Once you have selected all eligible Moments for the Challenge, you can submit your entry. Before proceeding with this step, please ensure you enabled pop-ups for our site on your browser. If you're on an iPhone and using the mobile version of Safari, you'll need to navigate to: Settings > Safari > Block Pop-ups.
After pop-ups are enabled, type Burn (case-sensitive) and then click on Continue. You will be asked to confirm the burn again through a pop-up in your Dapper Wallet before your submission is complete.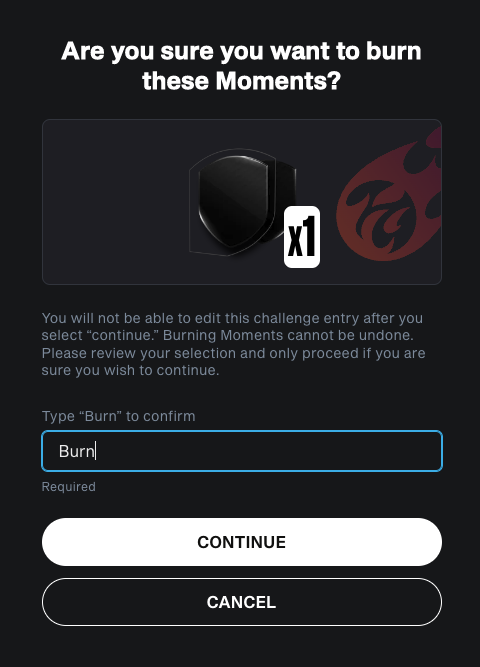 If your submission is successful and the Moments are burned, you will see the confirmation page below and a Submission Successful bar when you head back to the Challenge page.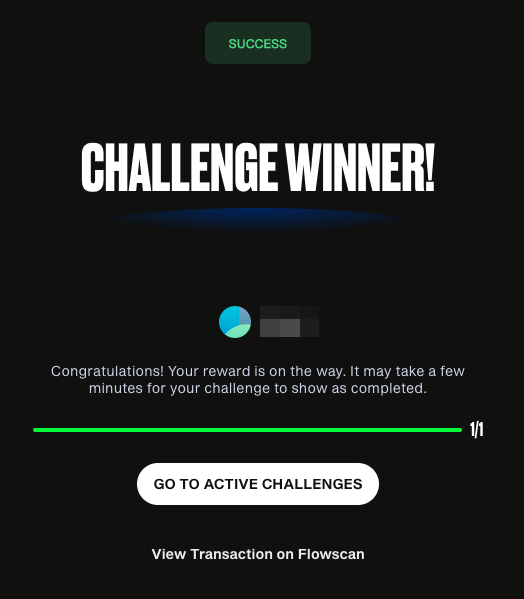 If you have all Moments eligible in your Challenge submission but have not yet completed the burn, you will see Ready to Burn on your Challenge entry. If you do not follow the steps to burn the Moments, your entry will be deemed ineligible so always double-check before the deadline that your submission has been successfully completed.

Please Note
Once all Challenge slots are filled, 'Burn' is typed, and you've submitted your entry, all requirements are locked in. If you change your mind after reaching the Dapper confirmation screen, you won't have the option to edit your entry so please confirm the Moments in your entry before submitting.
If you have a Moment in a Burn slot that is also used for another non-Crafting Challenge this will remove the Moment from your other Challenge entry. Ensure that you replace that Moment to avoid an invalid submission.
Saving your entry is not the same as submitting your entry. Holding the Moments in your account will not make you eligible for completion. Collectors are responsible for confirming that they have completed a successful submission before the Challenge deadline.